In this picture, taken in 1885, you will see a small ladder placed near the top-right window. In this picture, taken more than a century later, you can see the ladder exactly at the same position. The building is Church of the Holy Sepulchre, built where Jesus is believed to be crucified and burried, and in Jerusalem, moving even a ladder requires divine intervention.
There is another place in the world, which is holy not just for Christians and Muslims, but also for Hindus and Buddhists where such problems do not exist. Located in Sri Lanka and currently called Adam's peak, it was called Samanalakanda by the Sinhalese and Shivanolipatha Malai and Shiva padam by Hindus.So connection does Adam have with Sri Lanka and how did it become Adam's peak?
First, what's at the top of the mountain.? Captain John Ribeyro who fought in the civil war in the 17th century described the summit[5].
Hindus believe that this depression on the mountain which resembles a giant foot is the foot step of Shiva; for Buddhists it is the foot print of Buddha. Chrisitians believe that it belongs to St. Thomas and there are many other traditions which attribute the foot print to Jehovah, Eunuch of Candace and Satan[1]. It is Muslim tradition that attributes the foot print to Adam, their first prophet.
In fact there is an explanation for how Adam, a person from a middle eastern tradition, reached Sri Lanka. God, upset by Adam and Eve, threw them out of heaven and Adam landed in Sri Lanka creating an impression on the peak. He repented for a millennium when Gabriel took him to Arabia where Eve had landed. They both then returned to Sri Lanka and propagated the human race[4].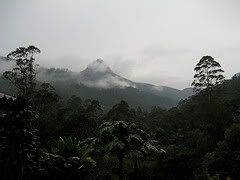 Soleyman, an Arab merchant who visited Ceylon in the ninth century, mentioned the Adam tradition, which suggests that it was prevalent within two centuries of Islam's founding. Sindbad the Sailor's tales, believed to be partly based on real sailors tales, also mentions a pilgrimage to the place "where Adam was confined after his banishment from Paradiese." It is believed that this tradition originated among the Copts (Egyptian Christians) of the fourth and fifth centuries[4]. There is also a story which mentions that a group of three Arabs led by Sheikh Seijuddin, who according to tradition, converted Cheraman Perumal of Kodungallur, were on a pilgrimage to Adam's peak.
Diego de Couto, a Portuguese writer of the 16th century did not believe it was the foot print of Adam; he thought it belonged to St. Thomas. Marco Polo had heard from Muslims and Christians that there was a monument to Adam, but he did not agree with that it had anything to do with Adam. This was because, according to the scripture of Marco Polo's Church, Adam belonged to another part of the world. Instead he believed the Buddhist version and that the teeth, hairs and bowl of some "venerable figure" was commemorated[2].
When he heard about the relics, Marco Polo's patron Kublai Khan sent emissaries to Ceylon
to ask Parakkamabahu II, a Sri Lankan King without a Wikipedia entry, for these items. It took three years for the emissaries to reach Ceylon and they got two molar teeth, some hair, and the bowl. According to Marco Polo, Kublai Khan received these items with respect[2].
Marco Polo never climbed the mountain, but Ibn Battuta did. He went to Ceylon specifically for mountaineering. With an entourage of 10 Brahmin priests, 15 porters, 10 courtiers and 4 yogis (provided by Martanda Cinkaiariyan of the Aryacakravarti dynasty) he made the trip to the peak and back. The final climb was quite hard  – a vertical ascent "by means of little stirrups affixed to chains suspended from iron pegs." There he prayed with Buddhists and Muslims but does not mention seeing Christians[3].
The mountain was officially renamed to Adam's peak by Major James Rennell, the British geographer who worked in India.
References:
The History of a Mountain By Elise Reclus, Bertha Ness, John Lillie
Marco Polo: From Venice to Xanadu by by Laurence Bergreen
The Adventures of Ibn Battuta by Ross E. Dunn.
Adam's Peak by William Skeen
(Image Credit: Munir)