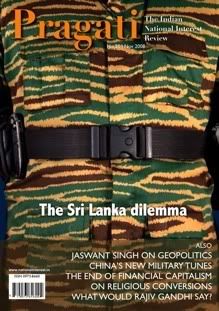 Download here
You might be interested in the following as well:
Pragati: October 2008 Issue Issue Contents PERSPECTIVEAsian growth in an American vaccuumA stronger rupee is the path ahead for IndiaV Anantha Nageswaran Frontline worry in the war on terrorWashington must learn to do without...
Announcing Pragati The National Interest web site has announced the publication of Pragati, a monthly publication consisting of the issues discussed at the national interest blogs. The community edition is available for...
My Article in Pragati:Towards a cultural liberalism Governments usually ban books and movies when they think that it has or can upset religious sentiments resulting in a break down in law and order. While that may be...